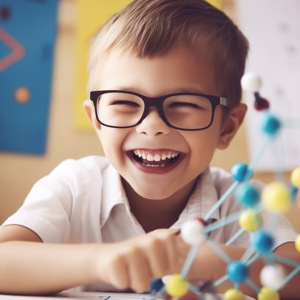 As we venture into the complex landscape of brain development, a core concept emerges: "happy learning." This intriguing idea forms the heart of many scientific studies and is increasingly shaping the way we approach childhood education. It promotes the belief that the positive emotions associated with learning can significantly enhance the development and function of a child's brainThe concept of happy learning emphasizes the joyous exploration of our environment. It leverages the innate human attributes of curiosity and the desire to grow.
The Science of Happy Learning
Happy learning is more than just an optimistic approach to education—it is firmly rooted in neuroscience. Neuroscientists suggest that when children learn in a positive, supportive environment, their brains form stronger, more efficient neural connections. In essence, learning is not only a matter of accumulating information, but also a crucial process in brain development.
How Does Learning Improve Brain Development?
Learning stimulates the formation of neural pathways, which are essential for thought, memory, and learning new skills. Each new piece of information or skill we acquire creates a unique pattern of neural connections in the brain. The more varied and rich the experiences, the more intricate the network of connections becomes.
Does Learning a New Skill Increase the Size of Your Brain?
While learning a new skill doesn't necessarily increase the overall size of your brain, it does lead to the creation of new neural pathways, which can enhance cognitive abilities. This expansion of neural networks can be particularly noticeable in areas related to the learned skill.
The Five Stages of Brain Development
The brain develops through five key stages: the prenatal stage, infancy, early childhood, middle childhood, and adolescence. Each stage plays a crucial role in shaping the child's cognitive, emotional, and social growth.
When Does Most Brain Development Occur?
Most of the brain's development happens in the first few years of life, with the first three years being particularly critical. During this time, a child's brain is highly plastic, meaning it can change and adapt to new experiences rapidly. The potential for learning and development during these years is vast.Parents, educators, and society as a whole have a vital role to play in providing children with ample opportunities to explore, learn, and grow. Happy learning is about creating an environment where children feel safe, loved, and motivated to learn. It encourages children to engage with their surroundings, helping them to build skills and knowledge that will benefit them throughout their lives.In the long run, happy learning and positive experiences can contribute to better mental health. It strengthens the ability to deal with stress and adversity, promotes self-confidence, and instills a love of learning that can last a lifetime.
Wrapping Up
Happy learning and brain development go hand in hand, laying a solid foundation for a healthy and productive life. As we embrace the principles of happy learning, we offer our children a gift—an enriched life filled with endless opportunities to learn, grow, and thrive.Meta Keywords: Happy Learning, Brain Development, Child Development, Positive Learning, Learning Benefits, Brain Growth, Mental Health, Parenting, Childhood, Studies, Opportunities, Family.Meta Description: Dive into the exciting world of happy learning and its profound impact on brain development. Learn how positive experiences and curiosity-driven learning contribute to mental growth and lasting benefits. Experience the joy of exploring the human brain's potential for lifelong learning and growth.
 Happy Learning, Brain Development, Child Development, Positive Learning, Learning Benefits, Brain Growth, Mental Health, Parenting, Childhood, Studies, Opportunities, Family.
Dive into the exciting world of happy learning and its profound impact on brain development. Learn how positive experiences and curiosity-driven learning contribute to mental growth and lasting benefits. Experience the joy of exploring the human brain's potential for lifelong learning and growth